Readers of a certain age may remember the A-Team. They love it when a plan comes together, and so do I. There's still a lot to do, but it's all coming along nicely.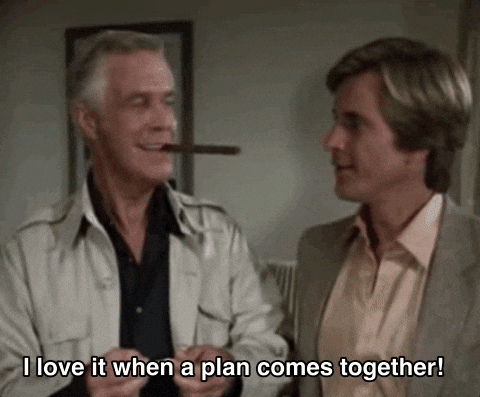 Despite my deep dislike of To Do lists, I'm ticking things off and reasonably happy with progress so far.  And I've been putting pretty things together for the social media marketing.
#flatlay #fromeblooms #fromeindependent #cutflowergarden #handtiedbouquet #grownnotflown #seasonalfloweralliance #flowerstagram #youcantbuyhappinessbutyoucanbuyflowers
And today I've made two bouquets:
This is Daily Bouquet #47 with Clematis 'Nioble,' with rose, pelargonium, geranium, hebe and allium.
I looked up the name Nioble, and she's a figure in Greek Mythology – yet another doomed one. She was too proud of her seven sons and seven daughters, and the gods punished her hubris by killing all her fourteen children.
I don't know why I bother looking these names up – there's never a happy tale in the mythos!
The second bouquet was a practice for the flower stall, I want to make an eye-catching centerpiece in this HUGE vase, which I've decorated and is ready for sale. I'm glad I practiced working on this scale, it's different using HUGE stems in a bouquet. What seemed to work best was a few HUGE stems in a bold arrangement. I'll have to see what flowers look good on the day, but I'm glad to have had a practice, it's made me a bit more confident.
One major lesson learned was that this bouquet is so large that the cat thinks its a tree and was about to climb it before I caught her.
Catastrophe averted! (For now anyway…)
I hope your garden plants are growing and your garden plans are going very well. 🙂